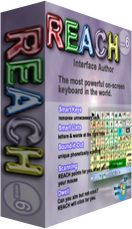 Communicate

Engage

Relate

Customize REACH Interface Author by selecting any of the following productivity add-ons. Select more than one add-on and receive a special discount (see shopping cart).
Communicating

with family and friends is easy with REACH. REACH speaks as you type or after you're finished typing. You can highlight text virtually anywhere on the screen and have it read back to you.

What's more, you can use REACH's new

Smart Speech

add-on to use the ultimate in augmentative communication.

Using REACH's on-screen keyboards, you can use Twitter®, Facebook®, blog, email, or instant messaging!

Using current social media tools is easier with REACH and can help you stay connected with friends and family!

REACH is adaptive technology. REACH adapts to how you use the mouse or pointer. Can't click? Do you tend to make extra clicks? No problem, REACH can help!

REACH can help you click by using a feature called

Dwell

. Or, you can filter out unwanted clicks and reduce missed targets by using our

ClickAssist

.

REACH comes with many keyboard layouts including some game keyboards. In addition, you can customize almost every REACH keyboard or make your own.

REACH makes customization quick and easy with Hot Authoring. In addition, the keyboard authoring tool in REACH allows you to customize keyboards for the ultimate in personalization.

REACH's full-featured word prediction make's entering text quicker, easier, and more accurate.

For even more improvements in keyboarding, check out REACH's add-on features:

Smart Keys Smart Lists

There are so many REACH features to learn about. REACH's comprehensive set of features means you don't have to buy multiple products to meet your assistive technology needs.

REACH's newest add-on feature is Smart Speech. This product includes a set of special keyboards and dictionaries that are targeted for users who need a comprehensive speech augmentation system. By utilizing Smart Lists technology, Smart Speech can deliver an unprecedented number speech options quickly, reducing the number of clicks to create conversational sentences. REACH Smart Speech also can be used as a writing tool, because you can type your sentences into any word processor, spreadsheet, email, etc.

REACH's add-on features can help you become more efficient and productive. Most of these optional add-ons were developed through research grants funded by the National Institutes of Health. Our research led to these innovative solutions which increase typing speed and accuracy, and for most of these options, we have data showing their effectiveness.
REACH's Windows Management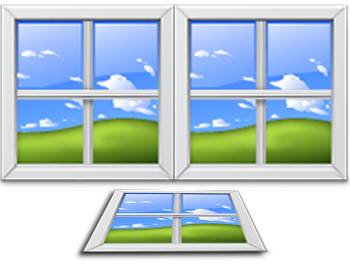 To understand the importance of Windows Management we must call attention to the tendency to assume that nothing can be done about some computer-related tasks that are difficult for many on-screen keyboard users. Applied Human Factors has devoted considerable time and effort to identify these tasks and include provisions in REACH to either help the user perform such tasks or, better yet, automatically perform them for the user. Below are descriptions of some the usability issues that REACH addresses that no other on-screen keyboard solution even considers!
Windows is Not On-Screen Keyboard Friendly
Windows was designed to allow an active application to either take up the full screen or to present a resizable smaller window that takes up part of the screen. These are reasonable features for most people, and make it possible to see more than one program at a time and help users increase productivity. But full- screen applications usually go "behind" an on-screen keyboard because most on-screen keyboards have been designed to be presented in a window that always floats above all other windows (this is called "always on top" windows).

The problem with this approach is that the user must manually resize and drag windows around to set up an appropriate layout for working, for example, in order to see all the contents of the application being typed into as well as see all parts of the on-screen keyboard. To make things worse, when users move from one application to another they probably have to repeat this process for each application.

People who need on-screen keyboards should not have to move windows around - everything should "just work."
REACH to the Rescue
REACH solves these difficult "windows management" problems. By default, REACH is "docked" to the bottom of the screen just above the windows task bar. So the button bar, keyboard, and word prediction are all in one unit and "docked" to the bottom of the screen while the currently active application is automatically resized above REACH.


Screen Real Estate
Screen Real Estate refers to the total amount of screen space available for displaying both the on-screen keyboard and the application the user is typing into. To make things even more crowded, users often need large keys on the keyboard - so they can read the labels or so they have larger targets to aim at. If the user wants to view more of the application by hiding the keyboard, using the "Minimize" option is not a good idea because the Windows minimize buttons are small and difficult to click on for some users.

The basic Applied Human Factors design philosophy is to provide the user as much flexibility as possible for viewing both the application and REACH.
REACH Makes the Most of Screen Real Estate
To see more of an application, you can "hide" REACH's keyboard and word prediction by pressing the 'hide/show' button on the REACH button bar. When you do, REACH automatically resizes the application you're using to fit the space available above the REACH Button Bar or keyboard - which ever is presently shown on top.

In addition, all REACH keyboards can be easily resized for people who don't need big targets but want more space for the application.
Running Other Programs
Any computer user often needs to move from one application to another application. Clicking on the Windows task bar is difficult and often cumbersome, and usually impossible for people using switch scanning. With REACH, you can use the 'Next Program' button to page through all your open applications, and as you do, each program is automatically resized above REACH.
Dialog Boxes
Dialog Boxes are the smaller windows that often appear when using an application. The problem with most on-screen keyboards is that, because they are set to always be "on top" the dialog box's information and input fields are often hidden or obscured by the on-screen keyboard application. The problem is even worse for on-screen keyboards that scan because if you want to enter information into a field in a dialog box, there is no way to see what you're typing or sometimes, even see what information should be typed into the dialog box.
REACH Rescues Dialog Boxes
REACH uses a very simple idea. First, when the application launches dialog boxes, REACH steps in and automatically moves them toward the top of the screen. If the dialog box is exceptionally large and partially covers the REACH keyboard, no problem; all you have to do is aim your mouse at the dialog box and REACH automatically brings it forward, momentarily partially covering the REACH keyboard. But then, when you move your mouse onto the REACH keyboard, REACH automatically "pushes" the dialog box behind the REACH keyboard - so you now can see the entire keyboard.

For users who scan, REACH detects dialogs and allows you to view the dialog box as part of the "scan cycle".

As you can see, the designers at Applied Human Factors put a lot of time and effort into solving these problems. The ultimate goal of all interface designers is that the end user never even notices these assistive features - however, once they have worked with REACH for a while, they will undoubtedly notice their absence when they try using a standard run-of-the-mill, on-screen keyboard.