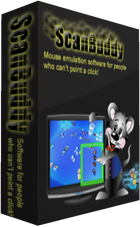 Click Anywhere

Click Faster

Click Smarter

Use Your Mouse by Just Clicking!
If you have problems using a mouse but can operate one or two switches, ScanBuddy can provide a full point-and-click mouse capability.

Do you want to be able to interact with the computer by using only a single switch?

You want independence. You want to be able to open applications, surf the web, and send emails. ScanBuddy is software that helps you position your mouse and then click, double click, or drag (and more) by using a single switch.
How Does ScanBuddy Work?
Divide And Conquer
ScanBuddy is innovative because of how it helps you identify the point on the screen where you want to perform a mouse function.

You see, some mouse emulation programs simply draw a line across the entire screen and then lower it until you use your switch to identify the vertical location of the target point. Then a pointer moves across that horizontal line until you use your switch a second time - when the pointer is on top of the point you want.

If have a small area to scan or if most of what you want to click on is towards the top and to the left of the screen, that is a good solution.

But that often isn't the case. ScanBuddy uses a method that helps you quickly identify the general region where the mouse activity is to be performed, and then changes to the line scanning approach described above.

Specifically, ScanBuddy first divides the screen into sections and offers you sections of the screen one at a time. When the target point is inside a section being offered, you simply click.

ScanBuddy initially divides the entire screen into two sections, the top half and bottom half, and then offers them to you one at a time. Once you pick, for example, the bottom half of the screen, then ScanBuddy divides the selected bottom section into two sections again, the left half (lower left quarter of the entire screen), and the right section (bottom right quarter of the entire screen), and offers those to you one at a time until you operate your switch again to indicate which of those two sections contains the target location. By dividing the screen up into sections you effectively reduce the screen to a more manageable size.

After a few divisions, when the last-selected section of the screen is small enough, ScanBuddy uses the line scanning method described above - a horizontal line moves down the selected section until you use your switch to identify the vertical location, and then a pointer moves horizontally across the line until you use your switch to select the target location. At that point, ScanBuddy knows the location of the mouse activity, so it then offers a scanning menu that lets you select the kind of mouse operation you want to do there.

You can click left button, double click left button, click right button, double click right button, or drag. In addition, you can do some other mouse operations like control-click, scrolling, etc.
Intuitive Clicking
Some mouse emulation programs make you decide what you're going to do first and then select the point you want.
ScanBuddy takes a more natural approach, similar to using an actual mouse. You first select what you point you want then tell ScanBuddy which operation to perform.
Intelligent Clicking
ScanBuddy knows when you're aiming at a button, menu option, or some other object that always requires a click. In this way, you save time because you don't have to tell ScanBuddy which mouse operation to perform. It just does it!
Flexible Input Methods
Can you use two switches or one, a joy-stick or mouse, sip-and-puff switch, keyboard keystrokes? You can set up ScanBuddy to accept input from any of these devices.
Cool Features
You can set up ScanBuddy to offer you the current active application first. If you click your switch during this time, ScanBuddy won't divide the whole screen, but will divide just the application you're working on. This is a great way to save time and speed up scanning.

ScanBuddy can be set to "unwind " from where you last made a selection. For example, if you got as far as selecting the point but do not select one of the button options, then ScanBuddy will start the line scanning right where you left off, allowing you to click in nearby locations. This is helpful if you tend to click near where you last clicked, or if you missed your target by a bit.
Fine-Tune Your ScanBuddy
All time delays in ScanBuddy can be adjusted to fit your ability.

In addition, you can change the highlight color and other settings for ScanBuddy.
Download ScanBuddy Mouse Emulator and give it a try...