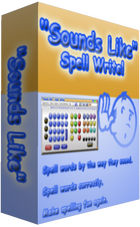 Spell Better,

Phonetically,

Naturally
Customize "Sounds Like" - Spell, Write! by selecting any of the following productivity add-ons. Select more than one add-on and receive a special discount (see shopping cart).
Be Independent
Do you feel like you are dependent on spell checkers? What do you do if the software you're using doesn't have a built-in spell checker? Is your spelling so bad that spell checkers don't really help? Spelling is difficult for some of us, but it doesn't have to be!

With "Sounds Like" - Spell, Write! you're able to spell with confidence!
How Does it Work?
Sound Out Your Word
"Sounds Like" - Spell, Write! lets you "use your ear" to find and type the word you are after. It starts off by displaying a "phonetic" keyboard. Each key represents a phoneme. You can hear the phoneme by pointing at it with your mouse. When you click on a phoneme, "Sounds Like" displays words that begin with that sound. In addition, "Sounds Like" removes all phoneme-keys that don't follow that sound. This makes it much easier to find the next sound in the word you are looking for.


Find the Word You've Made
As you continue to select phonemes, words appear above the "Sounds Like" keyboard that sound like the word you are constructing.

At any point, if you think you see the target word in the list above the keyboard, you can point at it and it will be read out loud, so you can determine if that really is the word you are after. When you've completed your word by selecting all of the sounds in that word, you will see words that sound like the word you've constructed highlighted in yellow. Find the word you are trying to spell, point at it to confirm that it is the target word, and click on it to type it to the currently active application. Like REACH, Sounds Like can type words into any open application that accepts text.
What if I Can't Read the Words in the Word List?
No problem! Aim at the words in the word list and they'll be spoken back to you. Then you can decide which one of the words is the word you want.
I Need Help Spelling but Not All the Time
Okay, again that's no problem. "Sounds Like" comes with a built-in normal on-screen typing keyboard; or, you can use your hardware keyboard if you want. In fact, one way to use "Sounds Like" is to use the normal keyboard. When you have trouble spelling something, you can use the "Sounds Like" keyboard. If you like that approach, then try using the Smart Keys option in the demo program. Instead of minimizing the keyboard, keep it on the display but out of the way. As you type with your hardware keyboard, Smart Keys will show you the keys that follow the letters you have typed. This can help you figure out what the next key is in the word you are typing.
Is it Difficult To Use?
We build our software with the user in mind. It is a novel approach to typing, but in our study testing children and adults with learning disabilities, they mastered this approach and used it to improve their spelling accuracy - and the entire study session was only an hour and a half long and included typing in a control condition as well as using the phonetic approach. You should be up and running in no time. In addition, "Sounds Like" comes with a great introduction built into the software that lets you see how it works.
"Sounds Like" and give it a try...