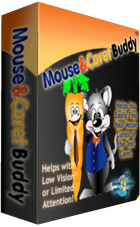 Find your mouse cursor and text caret.
Mouse&Caret Buddy - Get control of your computer!
Find Your Bearings and Enjoy Your Computer
If you have trouble finding your mouse because of a low-vision issue or attention issue, you'll love Mouse&Caret Buddy!
How Does it Work?
There are other programs on the market that enlarge the system cursor, but that only helps part of the time. Many programs change their cursor to indicate something on your machine. These cursors can't be changed!

Our solution is to simply position a big picture next to the mouse cursor (we use our mascot Mouse Buddy). Moreover, if you're having trouble finding your mouse cursor you also might need to find your text caret. To help you find that, another picture is positioned next to your text caret (we use Caret Buddy for that).
Useful Features
Mouse&Caret Buddy has some useful features.
You can set the Buddies to only show up when you're using the mouse or keyboard or to show up when you're NOT using them.
You can change the pictures for both Mouse Buddy and Caret Buddy.
You can change the size of the pictures you use.
Download Mouse&Caret Buddy and give it a try...