Download - SoothSayer Word Prediction
For: Windows
XP
SoothSayer 3.0 users had an old copy prection scheme that we're no longer supporting. Current users of SoothSayer 3.0.0 need to download this version to upgrade their 3.0.0 to 3.0.2 . This is a free upgrade. Comeback to our website to license SoothSayer.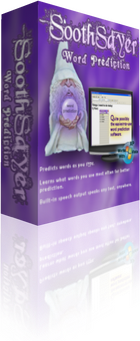 SoothSayer Word Prediction
SoothSayer is our affordable and easy-to-use word predictor that is packed with features.
Over the years, we've received many compliments about our user interface because it is so easy to use and intuitive. Don't take our word for it, download the SoothSayer demo and see for yourself.
SoothSayer can be used anywhere you type text: email, word processing, social networks, instant messaging.
SoothSayer Features
Customizable Colors/Fonts
Auto-Show
Abbreviation Expansion
Varying Dictionary Levels
User Dictionaries
...much, much more!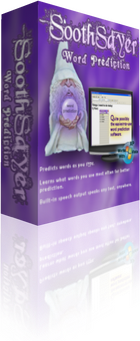 Downloading SoothSayer Word Prediction