Download - OneWay Mouse Emulator
For: Windows

Windows 7

,

VISTA

,

XP
Our latest version 1.0.5. OneWay supports Sip-&-Puff devices and joysticks for unique control of your mouse. OneWay also has DwellBuddy built in, so you can click by just aiming your mouse!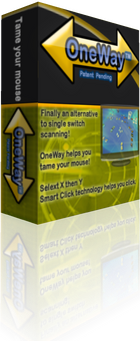 OneWay - Mouse Emulator
OneWay is a radically novel approach to help people who use a mouse, but not that well or people who are using switch scanning, but are capable of more. OneWay lets you throw away mouse movements that you're not good at, and exploit the movements you are good at.
Sip & Puff ... it's not just for clicking!
Use a Sip &amp Puff with OneWay to "push" and/or "pull" the mouse in a particular direction.
OneWay Features
Get out of Scanning and into Point-and-Click!
Simple Interface
Comes with DwellBuddy for clicking
Smart clicking
Use a Sip & Puff Device to click!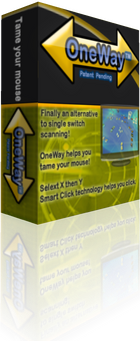 Downloading OneWay Mouse Emulator